First, I must apologize - December ran away with me and I did not find any free time to post.  Sorry.  I'm back in the game again now.
After my last post, I began to really watch my food diary and pay attention to my reactions.  The result: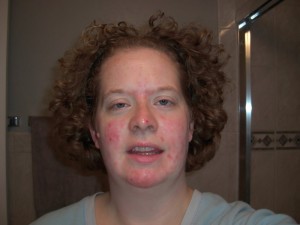 Not bad, right?  I was hesitant to post this picture because my camera is so kick ass that is shows all of the redness and my years of scars in detail (so much for my kick ass camera working in my favor!).  But, if you compare to the last picture, 100% better.  Unfortunately, it didn't last.  Last week, right before Christmas (naturally!) I had a reaction - a BAD one - to I have no idea what.  I have been so careful not to eat gluten, corn or soy.  It is very likely that it is an OVERreaction due to holiday stress as well.  However, that aside, it is still ugly and painful.  This latest reaction was not very cystic at all and for that I am grateful, but there were many spots and they are taking a long time to fester, come to a head and heal.  So, it looks like I end yet another year with ugly face.  I'm feeling discouraged because when I removed corn and got the above results, I thought I had finally figured it all out.  At this point, I have a sneaking suspicion that I am allergic to a salad spice or some component of that spice that my parents use.  We eat with them on the nights I work and the last 2 weeks when we've been eating A LOT of salad, my reactions have been bad and are not getting better.  A few weeks ago, we hadn't had salad for a while and everything was ok.  So - it is back to the drawing board……again.  Hopefully I will be able to post in 2012 with good news and a good face.  Until then friends, Happy New Year.  Be well.