My latest project is working on a benefit concert for my good friends' niece.  I, along with a host of other fantastic singers and musicians will be performing in a Coffeehouse concert that will benefit Grace's Angels.
Coffeehouse for Grace
Saturday, March 5, 2011
7:00 pm
First Presbyterian Church of Roselle 111 W 5th Ave. (Corner of Chestnut), Roselle, NJ 07203 
$10 Adult, $5 Child (refreshments included)
For ticket info or to purchase tickets email: [email protected]
Seating is Limited No tickets will be sold at the door. ______________________________________________________________________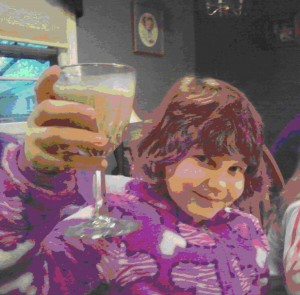 On May 7, 2009 Grace Doran was diagnosed with T-cell Lymphoblastic Lymphoma. This aggressive cancer formed a 9 centimeter mass within her lymphatic system that is pressing against her heart, her lung and her aorta. Grace has been receiving chemotherapy since May 7, 2009. The supportive staff of St. Christopher's Children's Hospital in Philadelphia and the family are still helping Grace fight. All proceeds of the coffeehouse will go directly to Grace's Angels. Grace's Angels is a donation fund created to help the family with medical costs.